Makia X CTRL: The Full Story | Nordic Streetwear Pioneers
Nostalgic Finnish streetwear label CTRL is back with a bang: with a head-on collision with fellow Finnish fashion powerhouse Makia.
We sat down with the two creatives behind each brand: Freeman from CTRL (left) and Jesse from Makia (right) for an exclusive look at their upcoming collection and so much more.
How did Makia x CTRL come about?
Freeman: Well, Jesse (Makia) and I met in '91 or '92 so we've been friends for a long time. CTRL was around even before Makia and back then we didn't really "know" each other but when makia started getting international we started seeing each other at trade shows and started hanging out, so yeah I guess our bond has always been strong. The old Makia office was 100 meters from my home so I hung out there a lot and since we share plenty of mutual outdoor related interests, we started going on fishing trips and such. I guess the idea for this collaboration got sparked from the small collection I did for makia under my own name a couple of years back and in general the whole thing felt very natural since the labels kinda really complement each other brand-wise.
Jesse: When we were starting out Makia, CTRL was already a strong skateboarding brand. Fast forward to today, people keep asking us where CTRL went and if we will see more of it. During our early days, CTRL was the only brand that we really looked up to in Finland, so we felt like this was the perfect time to do something like this. At Makia we have had some prints in the past, but mostly our collections have been "plain" and more serious – whereas CTRL is known for it's loud prints, which meant we could offer a strong canvas to lay CTRL prints on.
Is Makia a snowboarding brand?
Jesse: We are not a snowboarding brand, but we do have some our our roots in snowboarding and the lifestyle surrounding it, mostly from the 90's era . At the very birth of Makia we wanted to make something different that represents us: a more plain approach and not the extremely colourful designs that everyone was pushing out back then in 2001. Still, I think in the beginning of Makia we failed to differentiate ourselves from the snowboarding scene. It was difficult to shake off the snowboarding roots and every time we managed to steer away from it, we managed to do something that would steer us right back, like hold a snowboarding event for our friends under our company name, which did not help the brand laughs.
Freeman: I think the OG Makia customers remember a snowboarding vibe (and nothing wrong with that), but I don't think that today's new customers make that connection anymore.
Why did CTRL morph from a skateboarding brand to streetwear?
Freeman: First of all I don't really see a fundamental difference between a skate brand and a streetwear brand, in principal, both are making clothes for people to wear on the streets, if you mean why CTRL didn't continue focusing on skateboarding, I don't think there was any one particular reason or a simple answer to that, but I think because our customer base got way bigger than a core skateboarder (an elite group of cool guys that don't buy anything anyway haha) and that kind of determined our distribution and sales partnerships around the world which was for a much wider range of stores and not just skateboarding. In general it was the graphic-heavy clothing that our customers were asking from us so it sort of all happened really organically - you don't really plan these things, meaning the brand you're building kind of grows up with you. Business wise it's an extremely hard road for a skateboarding brand if you don't reach for wider audience outside skateboarding, and it's no news that all the biggest brands in skateboarding make their profit from everything else but selling boards to skateboarders.
Where does the name MAKIA come from?
Jesse: I was not involved in the first few birth months of Makia, so the original founding fathers Joni, Jussi and Ivar came up with that name. I guess the idea was to find a name that was easily pronounceable worldwide, without losing the exotic Nordic tone.
Freeman: Speaking of names, it was tumppi (Tuomas Vuorensola) who came up with the name CTRL, but I came up with the name for We Got Beef laughs.
Has your neighborhood in Helsinki (Punavuori) affected your clothing design?
Freeman: I don't think you can escape your surroundings and therefore you can't avoid getting influenced from things around you so for sure there must be some subconscious influence but design-wise I can't point out anything specific that I'd be aware of.
Jesse: Sure - our prints used to have a lot of Punavuori references, but nowadays we go with just "Helsinki" more or less in our prints.
Where did you make the CTRL stickers that were impossible to remove?
Freeman: Laughs, Those paper stickers? Probably in the cheapest place possible.
Is it true that a secret CTRL x Supreme collaboration was in the works?
Freeman: No, not sure where or why that rumor started.
Favorite CTRL piece?
Jesse: When we prepared for this project we went through all the old CTRL archives and the standout pieces for me were the last collection that Freeman made during CTRL's final full season in Paris, circa 2015/2016.
Favorite Makia piece?
Freeman: I can't remember the name of it, but I love and still wear the blue island camo jacket.
What Finnish brands do you like?
Jesse: There are so many good small labels and projects in Finland, but right now I can only name Marimekko.
Freeman: Marimekko as a brand is fucking cool. Borrowing Seth Godin's brand vs logo metaphor; if Marimekko would open up a hotel, you already know exactly how it would look and feel. The brand is so strong.
What advice would you give to someone looking to start their own clothing brand?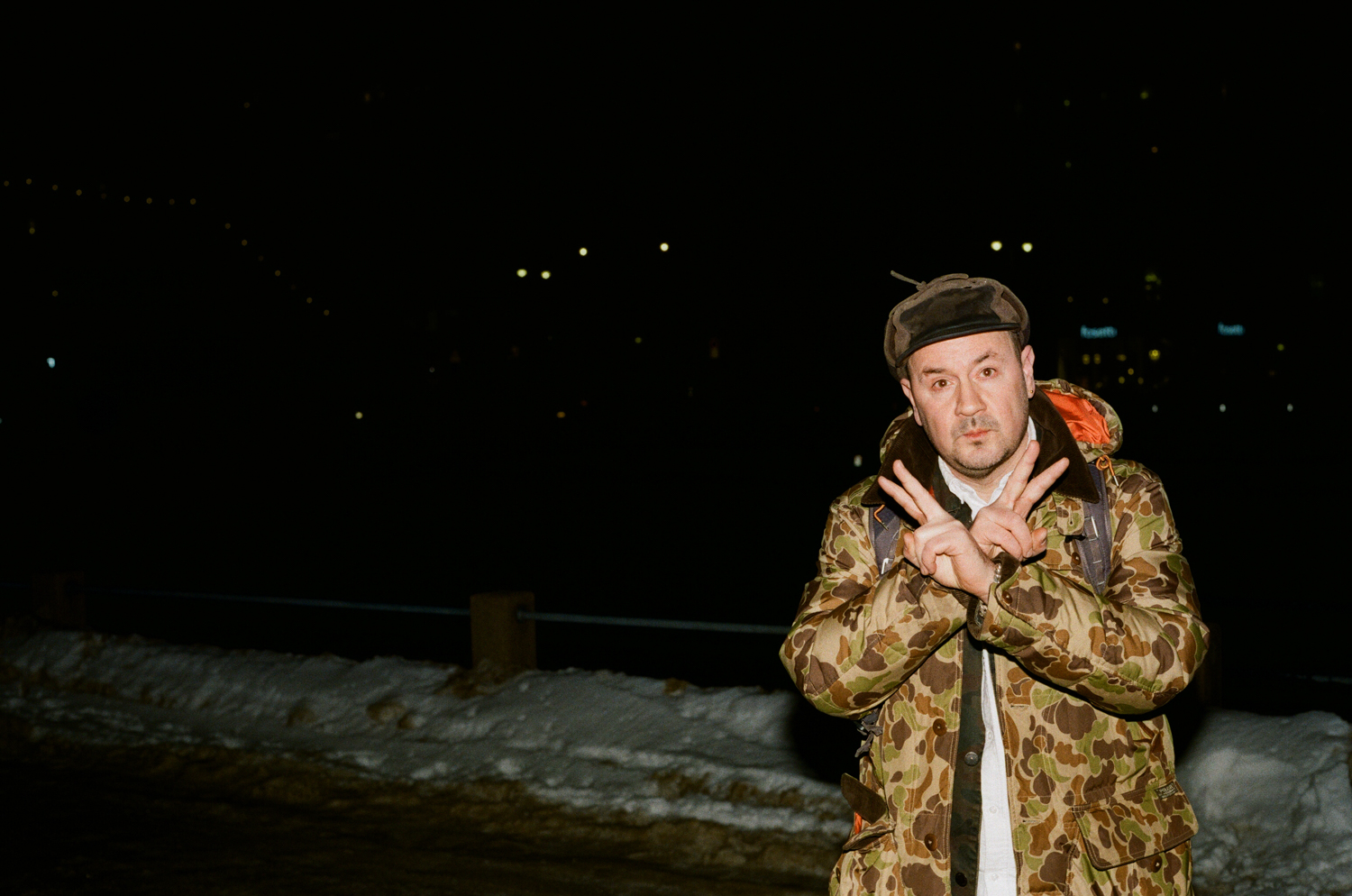 For us, it was extremely difficult in the beginning with CTRL. There were no other companies like that in Finland that we could ask for help or guidance; it was truly a trial and error type of process. See, most people end up in a difficult situation when they have a new brand: you make it past a few seasons, then you realise you need to invest in trade shows, new collections, marketing and all that. Then if by chance you get a lot of orders from retailers at a trade show you're all stoked only to realise you don't have the money to pay the factories to produce the orders. This is where a lot of upcoming hyped brands might fail, unless you manage to get a loan from a bank or put down your parents house as collateral. If you do find a way to fund the orders, you will quickly realise that logistics, production and dealing with factories can be extremely risky and there are many ways to get fucked if you can't handle the growth. For the youngsters, I'd say take advantage of SoMe. If you're good at it, you can grow your project organically. If you're not, partner up with someone that is.
When we started out, Internet did not exist like it does today. The world has changed along with advancements in social media and there are new ways of production. You no longer need to spend 200k on stock and pray that someone buys it before it's obsolete laughs. Today you can set up a shop with virtually no stock and quickly get prints made as sales are made. I've been in the clothing business since the early 2000's making all samples myself in the beginning and learning production myself so I know the business quite well. My advice would be to go slow and feel it out in the beginning and be cautious with how much you invest in the project. The risk of fucking up is extremely high in this business.
How do you think streetwear was born?
Freeman: I think it derives solely from the basis of skateboarding. Skateboarding has always been loud and different, and the important thing is it's pretty much the only sport happening in the middle of cities in the most hectic places, skateboarding really is a "in your face" type of thing, so it's only natural people were drawn to the rebellious nature of skateboarding. It's that 1950's James Dean "rebel without a cause" type of shit, you know. And in general the modern day designers that ended up making streetwear couldn't avoid getting influenced by it and the styles that were born on the streets.
What is your favorite food joint in Helsinki?
Freeman: I fell in love with Pho when we had a pop-up store in Berlin. I am still looking for good Pho in Helsinki.
Jesse: I'm bad at eating out, but I do like eating outside: in a park in Helsinki for example, with a travel cooker and some simple ingredients. It kind of bums me out that if you want really amazing food it is usually too expensive and the atmosphere is too stiff.
Dream collab?
Freeman: CTRL x Goldman Sachs laughs.
Jesse: Makia x "a futuristic sustainable material manufacturer"
How did you become a Creative at Rapala?
Freeman: I have been into fishing ever since I was a small kid so I already had a strong bond with the brand. My parents used to drive a caravan and we would end up at these camping sites where I subsequently, out of boredom, fell in love with fishing. I started out with a fishing rod and a few years later I was already fly-fishing and that really took me on a wild ride. I still think fly-fishing is the coolest thing ever. For me, Rapala is the only real outdoor brand from Finland. I've gone full circle: I used to make fake Rapala lures and now I work with them.
Does nature inspire your design language?
Jesse: I draw a lot of inspiration for my designs from the nature as that is where I spend a lot of my time. Even though our clothing is mostly "for the city"I often find myself testing our prototype jackets in the wilderness, feeling where the cold air comes in and whatnot, but I don´t really do this systematically.
Craziest story or fact about CTRL?
Freeman: This is not really a crazy story but there is this huge corporate clothing company in Japan that owns rights to all "Mark Gonzales" labeled clothing in Asia and they have been using a direct copy of CTRL hang tags for the past 5 years that I designed in 2007.
How did you get into clothing design?
Jesse: I was already drawing up my own designs in the 80´s, but back then I was pretty broke. My mom used to sow some stuff at home so I tried to learn from her and later on me and my friends created our first own clothes so that definitely fueled my fire. Later on in ´93 or ´94 I started touring as a professional snowboarder and started getting checks. I remember touring the US and every time I got a check I would find the closest mall and go spend it all - trying to look like Raekwon from Wu-Tang laughs. Furthermore, being sponsored by clothing brands gave me some insight into the behind-the-scenes stuff of that industry, which further drew me in to that world. Later on after my snowboarding career was over, I went to tailoring school and through that landed and internship at master tailor Matti Hampaala's shop. From there, through hard work, things just gradually fell into place and eventually I found Makia.
How does todays streetwear differ from what it was during the peak of CTRL?
Freeman: There is so much of it. It is hard to differentiate yourself in that market today. Streetwear as a whole is the mainstream trend of today. Supreme alone has been breaking through so many barriers along the years that most people didn't see the whole movement that would come along with it. Nowadays when a new brand pops up, chances are it's going to be streetwear.
Favourite transportation device?
Freeman: Murray Baja, a bicycle. Someone once stole mine.
Jesse: Almost any bicycle or boat.
What does streetwear mean to you?
Jesse: I connect with the old ideology of streetwear dating back to the early 90s Wu-Tang Polo days when people would dig up these obscure brands that somehow worked with their fits and that style made it "streetwear" - for example, like how Method Man threw on a Helly Hansen and everybody went nuts.
Freeman: I've thought about that a lot over the years, because I've had to answer that many times through defining my own brand. And I don't really even know what streetwear means so my answer is as Kim Jones put it; "streetwear is anything that you can wear on the streets". Currently streetwear is close to its climax and soon the fashion industry will abandon it once again which will only be good for the scene because it will get healthier for the next generation to build up on it.
What is your favourite piece from the Makia x CTRL collection?
Jesse: I love the Suomi As Hell coach's jacket. I like plain products and sometimes I might wear something with a vintage patch. I like prints but rarely leave the house wearing them.
If we may ask, what led to the premature end of CTRL?
Freeman: Of course you can ask! But "end" is not the correct term here, more like "gone fishing" or something… meaning CTRL never ended but went into a hibernating mode instead, I mean as a company it's officially been up and running since the beginning even if nothing was happening for some years. Entrepreneurship is cool when it works, but I definitely got a burnout. I could barely open photoshop without feeling the need to vomit. It was just too much. I can't say there was one particular reason, but the biggest of them was propably that me and Esa, my long time business partner, parted ways. Additionally, on the business side of things, we made a few wrong moves. We should have had a dedicated team handling the business side of things instead of trying to juggle everything by ourselves.
Are there any hidden references in the collection?
Freeman: POWERHOUSE.
The full collection launches February 15th in-store and online at Makia.
Additionally, there will be a CTRL X Makia Pop-Up at Beyond Cultural Platform on February 16th from 12-6pm.